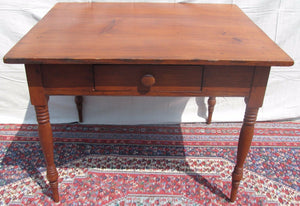 EARLY 19TH CENTURY OHIO RIVER VALLEY ANTIQUE TAVERN TABLE IN PINE

******We had some technical issues resulting in a few listings retaining only the one gallery photo. We're working hard to add the lost photos. For immediate service please send a message and we can furnish you with additional photos. Thank you, Adam for BCA
We are pleased to offer you this very nice early 19th Century Pine Ohio River Valley Sheraton Tavern Table. As far as the discipline of American period Tavern Tables goes, this is a very large specimen and a wonderful representation of the charming American Furniture of the Ohio River Valley. It is joined by mortise, tenons, proud pegs and features finely defined turned legs. It is equipped with a large generous center drawer that is 26" in depth. The table is 40 3/4" long, 34 3/4" wide and 30 1/4" tall giving a wide multitude of uses.